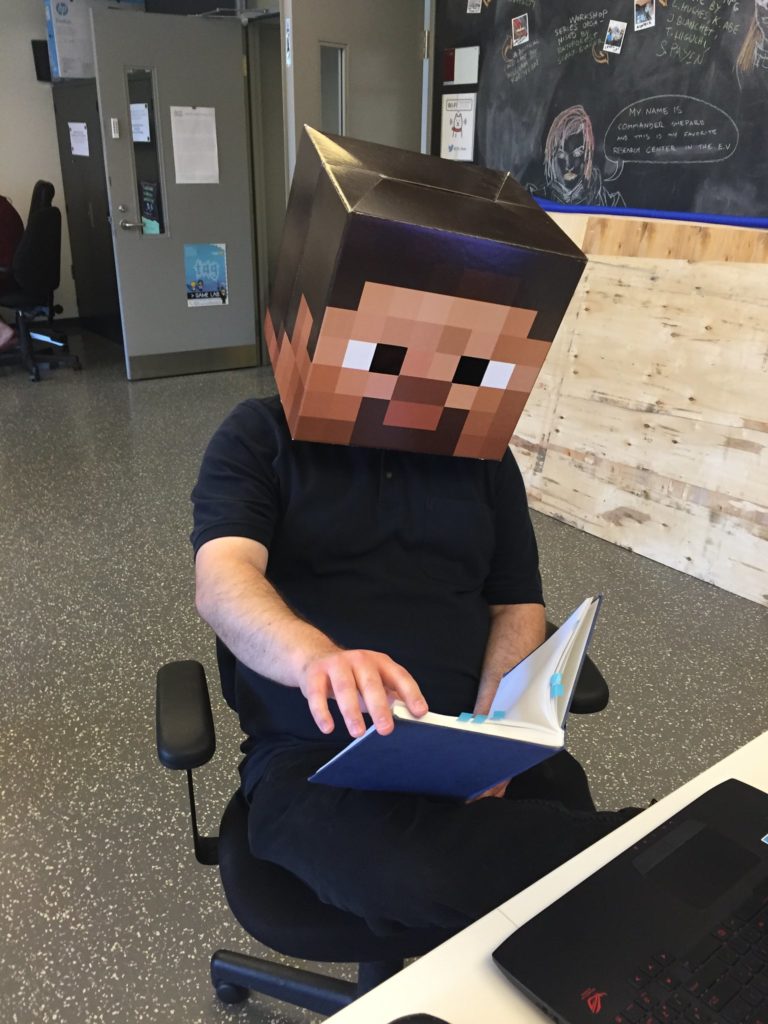 History
The Bloc has its relative beginnings In late 2012, with the launching of the first of many Minecraft research servers at Concordia, in TAG (by Stuart Thiel) and Mia Consalvo's mLab (by Joachim Despland). Early highlights of Minecraft research at TAG and mLab included "The Building Blocks of Life: A Minecraft Colloquium" (February 13, 2015); The MinDcraft installation at the New Museum in New York by Gina Haraszti, Pierson Browne and Joachim Despland (May 30, 2015); and Gina Haraszti's full-length machinima documentary YOUR PLACE OR MINECRAFT? (2016). Since 2014, Minecraft has been the central game in Darren Wershler's Video Games and/as Theory course, which currently explores the relationship between Minecraft and the theory and history of modernity.
Inspired by this long history of innovative and engaging work, the TAG Minecraft Bloc became a formal research unit in 2019, with "The Ultimate Goal: A Bauhaus Adventure in Minecraft," a project that was part of the milieuXbauhaus Festival (Nov 5-14, 2019).
Funding
Early Minecraft projects at TAG were funded by TAG; the IMMERSe Partnership Grant (University of Waterloo, PI Neil Randall); the Canada Research Chair in Game Studies and Design (Tier 1); and the Concordia Research Chair in Media and Contemporary Literature (Tier 2).
Our pedagogical research received seed funding from the Concordia Lab for Innovation in Teaching & Learning (LITL) in 2020. "Material Allegories in Minecraft," the SSHRC Insight application we submitted based on the seed project, was funded in 2022.
People
Bart Simon (Co-Director)
Specializing in digital culture and game studies, Bart is Professor in the Department of Sociology and Anthropology, the founding Director of the Milieux Institute for Arts, Culture and Technology and the co-founder of TAG.
Darren Wershler (Co-Director)
Darren is Professor of English and Affiliate Professor of Communication Studies and Cinema at Concordia. He is the Director of the Residual Media Depot and the author (with Lori Emerson and Jussi Parikka) of THE LAB BOOK: Situated Practices in Media Studies (University of Minnesota Press, 2022).
Jason Edward Lewis (Co-Director)
Jason is the University Research Chair (CURC) in Computational Media and the Indigenous Future Imaginary, the Director of the Initiative for Indigenous Futures (IIF) SSHRC Partnership Grant, and Co-director of the Indigenous Futures Research Centre. He will lead and contribute to all aspects of the "Decolonizing Minecraft" portion of the "Material Allegories and Minecraft" project.
Gina Haraszti (Videography and Design)
Gina Haraszti is an award-winning Canadian-Hungarian filmmaker and new media artist whose works have been featured at the New Museum in New York, Budapest Kunsthalle, the City of Montreal and the Milan Machinima Film Festival. She is the Creative Director of TAG at Concordia University.
Stuart Thiel (Development Team Leader)
Stuart has turned his research on sorting algorithms and his passion for technology and education toward virtual learning environments. His extensive technical background has allowed him to focus on "why" instead of the usual limitations of "how." These efforts have translated into interdisciplinary research projects that involve exploring the custom modding of Minecraft to achieve persistent learning outcomes.
Nicholas Watson (Technology Consultant)
Long-time Minecraft researcher and frequently the Bloc Project Manager, Nic is in the process of turning "Re-Crafting Games: The inner life of Minecraft modding" (2019), his doctoral dissertation, into a book.
Remi Arora (Project Manager, LITL)
Michael Iantorno (Graduate Researcher)
Michael Iantorno is a FRQSC-funded PhD candidate in Concordia University's Communication program whose doctoral research explores videogame afterlife, fandom, and intellectual property law. In addition to his academic work, Michael designs tabletop games as one half of Mammoth Island Games.
Angelica Calcagnile (Undergraduate Researcher)
Angelica is an independent student, radio host and graphic designer, with a BA in Communications from Concordia University. She's interested in Minecraft as a visual medium, as documented in her project A Year In Minecraft.
Theodore Fox (Undergraduate Researcher)
Theodore is an undergraduate student studying English and Creative Writing. Within game studies, he's particularly interested in the way players use online game spaces to rehearse ideology. He is currently a 2022 Undergraduate Fellow at the Milieux Institute and from 2020-2021 ran two weekly reading groups on the history of police and prisons.
Andrew Rochon (Undergraduate Researcher)
Andrew Rochon is an undergraduate majoring in Philosophy at Concordia University. After completing the Communications: Art and Languages program at Vanier College, Andrew has taken an interest in studying the intersection of technology and philosophy. An avid Minecrafter, Andrew has been playing since alpha and can usually be spotted holding a block of TNT.
Nat Torre (Undergraduate Researcher)
Nat Torre is an interdisciplinary artist who studied Computation Arts at Concordia University. They are as interested in exploring the possibilities that digital tools have to enact positive change as they are interested in creating art in a variety of digital mediums.
Richy Srirachanikorn (Graduate Researcher)
Richy Srirachanikorn is a sociologist using nostalgia as a lens and generative practice to understand the experiences of socially withdrawn people using technology, video games, and digital media in their lives. Specifically, Richy looks to the assemblage of nostalgic objects and objects which allow for the individual to nostalgize, following Svetlana Boym (2001), not only for the past that was, but for the past the way it could have been. He works with Bart Simon and Darren Wershler at Concordia University for a PhD in Social and Cultural Analysis.
Derek Pasborg (Graduate Researcher)
Derek is a Master's student studying Sociology, with a BA in Anthropology from Concordia University. Their research interests relate to the personal and emotional experiences of games.